Event & Register
Join Publishers Weekly and Frankfurter Buchmesse for the 6th annual PW Star Watch awards!
The 40 honorees hail from the U.S. and Canada, representing large and small publishers, university presses, literary agents, booksellers and others allied with the industry.
Make new connections and network with some of the brightest and most talented leaders and professionals shaping the future of publishing at one of the most memorable events in publishing.
Registration is free and open to all.

Supporting the Book Industry Charitable Foundation (Binc)
PW Star Watch 2020 has a new charitable component, added to benefit the Book Industry Charitable Foundation (Binc).
A percentage of PW Star Watch sponsor proceeds goes to support Binc, which was chosen by the PW Star Watch organizers and jury because it provides financial assistance to booksellers and shop owners, helping to replace income lost due to Covid-19 closures and furloughs.
About
PW Star Watch, in association with Frankfurter Buchmesse, identifies and celebrates members of the U.S. and Canadian publishing communities who are redefining creative thinking, moving the industry forward in surprising and unexpected ways and sparking innovation in publishing and bookselling.
PW Star Watch brings recognition to these honorees on a global stage.
Now in its sixth year, PW Star Watch has celebrated more than 250 honorees.
From publicity to production, bookselling to new technology, every facet of the publishing world is represented by this dynamic group of nominees who have already made an impact on the publishing industry.
PW Star Watch shines a light on innovative, talented professionals from all parts of the industry and provides them with additional mentorship, while also honoring their contributions.
Forty honorees were chosen from among the more than 200 nominations for the PW Star Watch 2020.
Five finalists chosen by the PW Star Watch executive jury will be revealed in the October 12, 2020 issue of Publishers Weekly.
One "Superstar" will be selected and announced at the virtual celebration on October 13, 2020, starting at 5 p.m. EDT. The Superstar will participate in the 2020 virtual Frankfurter Buchmesse as well as receive a sponsored trip to the Frankfurt Book Fair in October, 2021.

---
Get your free ticket now to enjoy the celebration, support the PW Star Watch honorees, have fun with your colleagues and meet the publishing industry's next wave of movers and shakers—all from the comfort of your home or office.

---
Honorees
PW STAR WATCH 2020 HONOREES
Anaka Allen
Farrar, Straus and Giroux
Anaka Allen
Farrar, Straus and Giroux
Maya Battle
Random House Group
Maya Battle
Random House Group
Annie Berger
Sourcebooks
Annie Berger
Sourcebooks
Faye Bi
Bloomsbury
Faye Bi
Bloomsbury
Danielle Bukowski
Sterling Lord Literist
Danielle Bukowski
Sterling Lord Literist
Nicholas Ciani
Simon & Schuster
Nicholas Ciani
Simon & Schuster
Melanie Conklin
Everywhere Book Fest
Melanie Conklin
Everywhere Book Fest
Nicole Counts
One World (Penguin Random House)
Nicole Counts
One World (Penguin Random House)
Andrew Cox
Penguin Random House
Andrew Cox
Penguin Random House
Read Davidson
Harvard Book Store
Read Davidson
Harvard Book Store
Meghan Deans
Ecco (Harper Collins)
Meghan Deans
Ecco (Harper Collins)
Katherine Del Monte
Lectura Books
Katherine Del Monte
Lectura Books
Marisa DiNovis
Random House Children's Books
Marisa DiNovis
Random House Children's Books
Maria Dismondy
Cardinal Rule Press
Maria Dismondy
Cardinal Rule Press
Nivia Evans
Orbit (Hachette Book Group)
Nivia Evans
Orbit (Hachette Book Group)
Britten Follett
Follett
Britten Follett
Follett
Estelle Hallick
Forever (Grand Central Publishing/Hachet
Estelle Hallick
Forever (Grand Central Publishing/Hachet
Leah Hernandez
Young Authors Publishing
Leah Hernandez
Young Authors Publishing
Lauren Klouda
IPG
Lauren Klouda
IPG
Jhanteigh Kupihea
Quirk Books
Jhanteigh Kupihea
Quirk Books
Megha Majumdar
Catapult
Megha Majumdar
Catapult
Mandy Medley
Pilsen Community Books
Mandy Medley
Pilsen Community Books
Ryan Mita
Children's Book Council
Ryan Mita
Children's Book Council
Hannah Moushabeck
The Quarto Group
Hannah Moushabeck
The Quarto Group
Lydia Ortiz
Chronicle Books
Lydia Ortiz
Chronicle Books
Chantelle Aimée Osman
Polis Books
Chantelle Aimée Osman
Polis Books
Norma Perez-Hernandez
Kensington Books
Norma Perez-Hernandez
Kensington Books
Lara Phan
Penguin Random House
Lara Phan
Penguin Random House
Quressa Robinson
Nelson Literary Agency
Quressa Robinson
Nelson Literary Agency
Cristina Rodriguez
Deep Vellum Books
Cristina Rodriguez
Deep Vellum Books
Shelly Romero
Scholastic
Shelly Romero
Scholastic
David Ross
Penguin Random House Canada
David Ross
Penguin Random House Canada
Lindy Ryan
Black Spot Books
Lindy Ryan
Black Spot Books
Jeanine Schaefer
BOOM! Studios
Jeanine Schaefer
BOOM! Studios
Kesley Smith
Greenleaf Book Group
Kesley Smith
Greenleaf Book Group
Christina Soontornvat
Everywhere Book Fest
Christina Soontornvat
Everywhere Book Fest
Jamie Tan
Candlewick Press
Jamie Tan
Candlewick Press
Katherine Turro
Flatiron Books
Katherine Turro
Flatiron Books
Mary Van Akin
Macmillan Children's Publishing Group
Mary Van Akin
Macmillan Children's Publishing Group
Lucas Wetzel
Andrews McMeel Publishing
Lucas Wetzel
Andrews McMeel Publishing
Lexi Walters Wright
High Five Books
Lexi Walters Wright
High Five Books
Anaka Allen
Farrar, Straus and Giroux
Anaka Allen
Farrar, Straus and Giroux
Maya Battle
Random House Group
Maya Battle
Random House Group
Annie Berger
Sourcebooks
Annie Berger
Sourcebooks
Faye Bi
Bloomsbury
Faye Bi
Bloomsbury
Danielle Bukowski
Sterling Lord Literist
Danielle Bukowski
Sterling Lord Literist
Nicholas Ciani
Simon & Schuster
Nicholas Ciani
Simon & Schuster
Melanie Conklin
Everywhere Book Fest
Melanie Conklin
Everywhere Book Fest
Nicole Counts
One World (Penguin Random House)
Nicole Counts
One World (Penguin Random House)
Andrew Cox
Penguin Random House
Andrew Cox
Penguin Random House
Read Davidson
Harvard Book Store
Read Davidson
Harvard Book Store
Meghan Deans
Ecco (Harper Collins)
Meghan Deans
Ecco (Harper Collins)
Katherine Del Monte
Lectura Books
Katherine Del Monte
Lectura Books
Marisa DiNovis
Random House Children's Books
Marisa DiNovis
Random House Children's Books
Maria Dismondy
Cardinal Rule Press
Maria Dismondy
Cardinal Rule Press
Nivia Evans
Orbit (Hachette Book Group)
Nivia Evans
Orbit (Hachette Book Group)
Britten Follett
Follett
Britten Follett
Follett
Estelle Hallick
Forever (Grand Central Publishing/Hachet
Estelle Hallick
Forever (Grand Central Publishing/Hachet
Leah Hernandez
Young Authors Publishing
Leah Hernandez
Young Authors Publishing
Lauren Klouda
IPG
Lauren Klouda
IPG
Jhanteigh Kupihea
Quirk Books
Jhanteigh Kupihea
Quirk Books
Megha Majumdar
Catapult
Megha Majumdar
Catapult
Mandy Medley
Pilsen Community Books
Mandy Medley
Pilsen Community Books
Ryan Mita
Children's Book Council
Ryan Mita
Children's Book Council
Hannah Moushabeck
The Quarto Group
Hannah Moushabeck
The Quarto Group
Lydia Ortiz
Chronicle Books
Lydia Ortiz
Chronicle Books
Chantelle Aimée Osman
Polis Books
Chantelle Aimée Osman
Polis Books
Norma Perez-Hernandez
Kensington Books
Norma Perez-Hernandez
Kensington Books
Lara Phan
Penguin Random House
Lara Phan
Penguin Random House
Quressa Robinson
Nelson Literary Agency
Quressa Robinson
Nelson Literary Agency
Cristina Rodriguez
Deep Vellum Books
Cristina Rodriguez
Deep Vellum Books
Shelly Romero
Scholastic
Shelly Romero
Scholastic
David Ross
Penguin Random House Canada
David Ross
Penguin Random House Canada
Lindy Ryan
Black Spot Books
Lindy Ryan
Black Spot Books
Jeanine Schaefer
BOOM! Studios
Jeanine Schaefer
BOOM! Studios
Kesley Smith
Greenleaf Book Group
Kesley Smith
Greenleaf Book Group
Christina Soontornvat
Everywhere Book Fest
Christina Soontornvat
Everywhere Book Fest
Jamie Tan
Candlewick Press
Jamie Tan
Candlewick Press
Katherine Turro
Flatiron Books
Katherine Turro
Flatiron Books
Mary Van Akin
Macmillan Children's Publishing Group
Mary Van Akin
Macmillan Children's Publishing Group
Lucas Wetzel
Andrews McMeel Publishing
Lucas Wetzel
Andrews McMeel Publishing
Lexi Walters Wright
High Five Books
Lexi Walters Wright
High Five Books
Sponsors

A portion of the sponsor proceeds go to support the Book Industry Charitable Foundation (Binc)
EVENT SPONSORS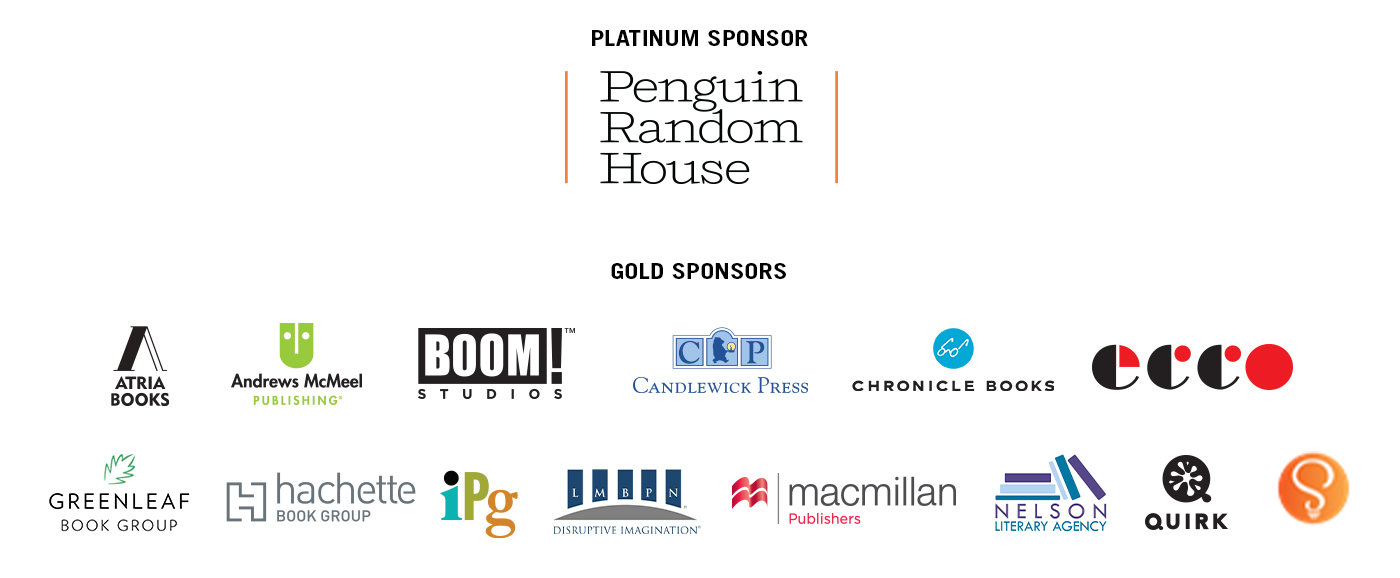 PW STAR WATCH BROUGHT TO YOU BY