One of Kids Can Press's bestselling authors, Mélanie Watt, clearly struck a resonant chord with kids when she created the character of Scaredy Squirrel, who initially refuses to leave his nut tree for fear of encountering green Martians, killer bees and ferocious sharks. Published in January 2006, Scaredy Squirrel spawned a spring 2007 sequel, Scaredy Squirrel Makes a Friend, which together have sold 70,000 copies and have been published in eight languages. Next month this comically neurotic rodent returns in Scaredy Squirrel at the Beach, which provides him with new worries: sea monsters, pirates and falling coconuts.


Watt's publishing career actually had its origins in a classroom. When she was assigned to create a book about color for a design class at Université du Québec à Montréal, Watt wrote a story about a chameleon. Her teacher, children's illustrator Michèle Lemieux, suggested she submit it to Toronto-based Kids Can Press. After Watts, a Montreal resident, translated the story from her native French, the publisher accepted the book and released Leon the Chameleon in 2001. She subsequently illustrated two books by other authors (Margaret Carney's Where Does a Tiger-Heron Spend the Night? and Bearcub and Mama by Sharon Jennings) and wrote and illustrated the Learning with Animals series of concept books, all for Kids Can.
Watt went on to write and illustrate Augustine (2006), about a shy, artistic penguin whose family moves from the South Pole to the North Pole, which was named an ALA Notable Children's Book. But Watt was intent on publishing a second book that same year. She quickly reworked another story she'd created for a university class—this one about a squirrel—and sent a mock-up to Tara Walker, her editor at Kids Can. Walker took to Scaredy Squirrel immediately and recalls, "I had a strong feeling that this was a book that would garner a lot of attention."
The idea for this quirky character had several sources. "Scaredy was inspired somewhat by how I grew up—a bit overprotected," says Watt. "I was also aware of how we are bombarded constantly with warnings, some sillier than others." She hit upon the idea of a timid squirrel who unexpected discovers his hidden talents (such as an ability to fly). "I wanted to write about a character who is afraid of things and doesn't know what he's capable of," she says.
Watt believes that creating Scaredy Squirrel catapulted her into a new creative realm. "It was my first try at doing something funny, and it brought me into a different place as a book creator. I now seem to add humor to all my books and have a lot of fun with it." Comedy played a central role in her next book, Chester, which received a starred review in PW. "Chester is an egotistical cat who interferes with my story, which is supposedly about a mouse," she explains. "Using a red marker, Chester takes over and makes the story all about him." Chester returns this fall in Chester's Back!, the title of which was out of Watts's hands: "Predictably, Chester named the book," she quips.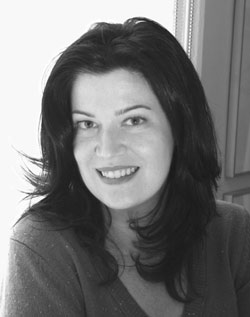 Watt.
Walker believes that Watt has found her niche. "Humor is definitely her thing," the editor observes. "That's where we connect as author and editor, and that is where she connects not only with kids but also with adults." Walker claims that Watt's characters draw from the extremes of their creator's personality. "There is a neurotic side to her that is Scaredy Squirrel—she carries a bottle of hand sanitizer with her wherever she goes—but there is also a Chester-like element to her personality. She writes about what she knows and puts a great, quirky spin on it."
Watt receives constant requests from fans for more Scaredy Squirrel books, as well as copious ideas for where the character should venture next. Doubtless she'll receive more input when she tours American and Canadian cities, beginning on April 21, to promote Scaredy Squirrel at the Beach.
Among her stops will be Toronto, where Eleanor LeFave, owner of Mabel's Fables Bookstore, will host Watt at several local schools. The bookseller says Watt is one of her store's top-selling Canadian authors. "We have had extremely good luck with the Scaredy Squirrel series. It seems to have taken on a life of its own," she notes, adding, "Kids who are three or four like the books, but aren't apt to get the irony. But it definitely hits the funny bone of readers who are five and six, or even seven and eight. Scaredy Squirrel has a long shelf life for certain."
Also preparing to welcome Watt is Phyllis Simon, co-owner of Kidsbooks in Vancouver. "Her books are huge in our store," she says. "We are very much about handselling and getting behind a book. And well before Scaredy Squirrel hit the consciousness of most booksellers and the public we loved it and ran with it. We are very excited to have our customers meet this author."
Watt is looking forward to her upcoming tour and touching base with her fans, especially the young ones. One boy from Texas whom she met while promoting Scaredy Squirrel Makes a Friend lingers in her memory: "I had just finished my presentation and I noticed this little boy crying because he hadn't had the chance to share his idea for the next book," she recalls. "So I asked him what his idea was and he told me that Scaredy should go to the beach. I of course knew what the third book was going to be, so I said, 'I promise you, Scaredy will go to the beach.' I hope when he sees the book that he's convinced the idea came from him."
Scaredy Squirrel at the Beach by Mélanie Watt. Kids Can, $15.95, 978-1-55453-225-4 ages 4-8