The price of comic books has been a hot button topic of late, with DC rolling back their prices to $2.99 on most of their books, while the majority of Marvel's books remain at $3.99. As overall sales continue to drop, it may be time to examine the effectiveness of Marvel's pricing policy. Raising the price nearly 33%, from $2.99 to $3.99, Marvel should be able to weather moderate sales drops on their books. After all, if no additional pages are added, that 33% is pure profit. Theoretically, with a circulation drop of 30%, Marvel would still be slightly ahead in revenue; a dip of only 20% would be considered an overall win when set against a price increase of one third.
Guess what? With the exception of Hulk and possibly Captain America, sales estimates clearly indicate that this was a sound business strategy for Marvel, although the value of adding back-ups appears to be questionable.
I've compared the sales levels of Marvel books just prior to the $3.99 hike and then in September, utilizing ICV2's sales estimates. The transition from $2.99 to $3.99 isn't nearly as clean as you might think. Marvel has really only raised the price on a handful of books. They've cancelled titles and brought back slightly different ones. They've added new titles, often themed towards crossover events (i.e. "Dark Avengers," "Dark Wolverine," etc) often enough that you might not realize it, but for the most part, titles like Iron Man, Fantastic Four and X-Factor have stayed at $2.99. Titles like New Avengers and Hulk have risen to $3.99 and entire families of titles (many of them Avengers-related) have debuted at the $3.99 price point in the last two years.
Taking books that did change their price and were still being published in September 2010 (with a clear, direct re-launch in two cases), I've charted the sales from the last $2.99 issue to present. In months where two issues came out, I've charted the higher selling issue.
New Avengers

Hulk

Thor

Ultimate Spider-Man

Captain America

Dec-08

93,908

Jan-09

90,040

Feb-09

106,831

96,718

Mar-09

95,340

Apr-09

93,975

82,726

79,626

63,874

May-09

94,367

73,105

50,144

66,928

Jun-09

88,067

69,568

57,364

112,287

Jul-09

84,745

92,343

41,374

87,844

Aug-09

89,996

77,455

86,008

125,366

Sep-09

85,598

58,667

65,265

57,477

108,331

Oct-09

76,656

56,811

52,813

Nov-09

74,379

52,653

53,566

49,106

96,571

Dec-09

72,790

53,222

61,608

45,849

91,790

Jan-10

78,202

54,266

55,353

43,622

63,948

Feb-10

76,405

51,962

66,973

42,176

63,568

Mar-10

76,145

50,785

62,012

40,967

56,962

Apr-10

75,430

64,522

39,955

59,051

May-10

76,918

49,618

61,779

39,690

Jun-10

129,084

50,724

56,443

39,149

57,443

Jul-10

83,397

53,373

37,879

Aug-10

81,354

48,903

51,076

36,946

52,834

Sep-10

77,479

46,784

53,505

35,776

47,986

-17%

-43%

-44%
(-13% short term)

-28%

-25%
Each of these 5 titles has a slightly different circumstance. Avengers and Ultimate Spider-Man both re-launched. Thor dropped its price back to $2.99 and then raised it again, performing much better in the near-term. Captain America added a back-up. Hulk added a back-up late in the game and is poised to drop back to $2.99. Let's take a look at these titles individually.
New Avengers
First out the gate, and effectively the flagship for the price hike, New Avengers was estimated to sell 93,908 copies in December of 2008. In September of 2010, it was estimated to sell 77,479 copies. That's only a 17% dip on a 33% price increase, so it's a big win for Marvel. That said, New Avengers recently re-launched, so there's a possibility those numbers are mildly inflated and still need to settle out a little. The lowest New Avengers dipped to was an estimated 72,790 copies in December 2009, which would be approximately 22.5% less than where it started. Any way you slice it, the price increase has been a win for Marvel on this title.
Ultimate Spider-Man
Ultimate Spider-Man sold an estimated 50,144 copies in May of 2009 and was down to an estimated 35,776 copies sold in September 2010. That's a 28% drop and puts it slightly ahead of a functional "break-even" point. The end of USM as a $2.99 title coincides with the "Ultimatum" event which does not appear to have been entirely successful, so the title was quickly re-launched with good numbers, but has steadily been bleeding readers, going from a big win to slight win and may well be under break-even levels (in terms of previous sales) in a couple months if the current trend continues. Call it a short term win, as Marvel raked in a lot of extra income around the re-launch.
Thor
Thor sold an estimated 96,718 copies in February 2009 and is down to an estimated 53,505 copies in September 2010. That's a 44% drop at first glance, but it isn't necessarily the disaster it looks like.
2009 saw very sporadic shipping and star writer J. Michael Straczynski walking away from his very popular run. Thor actually dropped back to $2.99 in December 2009 when up and coming (but by no means household name) writer Kieron Gillentook over and then rose back to $3.99 in June 2010. If you take May as the last $2.99 issue, with 61,779 in estimated sales, then September's estimated 53,505 copies is only about a 13% drop, as the arrival of star writer Matt Fraction shows an a sales burst. Thor lost a lot of sales when Stracynski left, but if you adjust expectations to its sales level after returning to $2.99, it's performing as well as New Avengers.
Captain America
Captain America is a strange one to analyze. First you have to drop back a couple issues to get the last $2.99 title sales figure because the last two leading into the price hike were anniversary issues. Then Captain America went on hiatus so the "Death of Captain America" storyline could be wrapped up in the "Captain America Reborn" mini-series. When Captain America returned, it was still $3.99, but it had a Nomad back-up strip. Here's the interesting thing. If you take the last issue before the anniversary specials (April 2009), the baseline for $2.99 titles was 63,874 copies. When Captain America returned with the back-up feature, the sales were estimated at 63,948. That's almost identical sales to the $2.99 sales level. And then it started dumping. September 2010 sales were estimated at 47,986 for a 25% drop in 8 months.
Since the sales reset to the $2.99 levels and did have a particularly drastic drop-off for a few months, it seems reasonable to conclude either readers didn't like the story direction, after the "Death of Captain America" epic had run its course, or they didn't like paying an extra $1 for the back-up.
As to whether Marvel was getting any extra profit, a book with a back-up feature isn't 100% pure profit for that extra dollar. Adding 8 pages is upping the content by 36%, while only upping the cover price by 33%, so any extra profit you're getting is dependent on those extra pages being significantly cheaper to produce than the main feature. Captain America's dropped 25% since going to $3.99 with a back-up. A 25% drop without a backup and this is a small win, threatening to revert to break-even status. With a back-up, it almost certainly is a net-loss.
Hulk
There comes a point when the consumer says "this isn't worth the price." For Marvel that point would seem to be Hulk. In fact, Marvel recently announced they're throwing in the towel and rolling it back to $2.99. Our baseline is April 2009's estimated 82,726 copies at $2.99. Hulk didn't drop right away, but it also didn't ship particularly regularly. In July 2009, it was up to an estimated 92,343 copies, but the next issue in September 2009 clocked in at an estimated 58,667 – as if 36% the audience went cold turkey. In September 2010, the estimated sales had fallen to 46,784. A 43% drop. Interesting, September also saw a format change and a new creative team. Jeff Parker and Gabriel Hardman took over for Jeph Loeb and Ed McGuinness and Hulk added a Rick Jones/A-Bomb back-up feature. With two issues of the new format on the stands (and presumably initial orders in for another two issues), we can only guess that adding a back-up did absolutely nothing to appease fans and that the bleeding didn't stop, as Marvel was fairly quick in rolling back the price.
Interestingly enough, there is a bit of a parallel between Hulk and Thor. Marvel immediately dropped the price of Thor when switching to a less famous creative team. While one might argue that Parker is better reviewed than Loeb, we're seeing a return to lower price after an attempt to maintain the price with a back-up.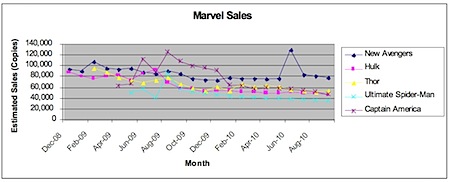 What can we learn from all this?
Marvel has, on the whole, certainly created a positive impact for their near-term bottom line.
A healthy percentage of fans will follow their favorite creators on their favorite titles at a higher price point.
If the fans aren't happy with a $3.99 title, they will leave (see: Hulk)
Even Marvel is having second thoughts about putting a $3.99 tag on books without a "star" creator.
Back-ups don't seem to be good for sales. It didn't help Hulk and it likely is dragging down Captain America. There need to be more data points before you can say it's better to publish a 22 story page book at $3.99, than a 30 story page book with a back-up, but there's circumstantial evidence here, as well as DC's abandonment of the format.
If buying patterns are consistent, Invincible Iron Man and X-Men Legacy would likely retain around 20% of their $2.99 sales numbers and be a fiscally positive move for Marvel.
Marvel is willing to roll back prices to $2.99 in instances where the pricing isn't working, but the threshold appears to be fairly high.
This doesn't mean that Marvel should price new titles at $3.99. Even Marvel has been starting to pull back from that, factoring in the relative draws of individual characters and creators. However, when Marvel publisher Dan Buckley gambled that 70-80% of his readers would want to continue getting their regular titles, regardless of a price increase, he was correct.
That said, there is implied pressure to keep the existing audience happy, lest another Hulk-esque exodus occur. DC is also attempting to draw negative attention to Marvel's pricing with their recently announced more to an all-$2.99 line and it remains to be seen if that tactic will have any effect on Marvel's sales.
[Todd Allen is a technology consultant and adjunct professor with Columbia College Chicago's Arts, Entertainment & Media Management department. Allen's book, The Economics of Web Comics, is taught at the college level. He also writes the Division & Rush webcomic for the Chicago Tribune Media Group. The opinions expressed here are not necessarily those of PW Comics Week.]